So as I mentioned before our contractors had told us previously that they planned on taking a vacation week, which would be this week. No, they did not inform us at the outset. But they were quite clever in presenting it: "so we will be taking a vacation third week of july, and we thought that you guys could use that time to assemble the kitchen cabinets."
yep, they are totally on to us – even though we are only doing less than 10% of the actual work, we are struggling to keep up. So what could we say besides, "yes, no problem, enjoy your time away, but please, please, please make the shower happen"? *Which they did do.
Moving on to our task for the week. Playing around Assembling our IKEA kitchen cabinets. Kirill was nice enough to lend Sergey a hand.
But from what I understand it is still a pretty slow going process, I guess those instructions can be a real pain. Sergey keeps saying that the first cabinet took them 5 hours, but that's with a break for dinner, and anyway, it was one of those complicated ones.
Here were are, progress!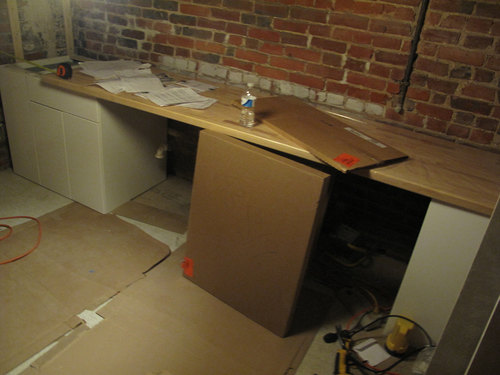 Meanwhile, I was back in tin tile world– now that I have stripped all of the ceiling panels its time paint them fresh. Priming is the worst, since it has to be an oil based primer with a rust inhibitor. I am using Rustoleum for clean metal on the fronts and Rustoleum for rusty metal on the backs, which are pretty rusty.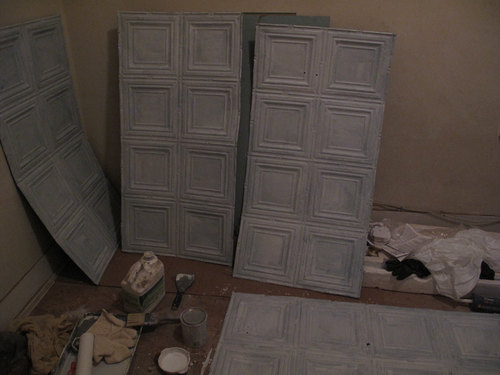 Each panel takes about 20 minutes on one side. Quicker than peeling paint, but still no fun.