Before we get to the good stuff – an update: we have found and signed a builder to come in and do all the structural work, including installing the french doors! more on that on Monday – their first day! And wood floor restoration people are coming on Thursday to tell us whether our kitchen boards are worth saving.
So it's now been over two weeks living without a kitchen. So far, so good. To be honest,I haven't missed it too much – though this might say more about our life style than about how much one would actually miss living without a kitchen. Or the pretty good set up that we have.
We moved our fridge to the dinning room, which is the single most important piece in the kitchen. Unfortunately the stove had to make the trip too as we will be reusing it in the new kitchen for some time while saving up for something fancy. And no, it does not currently work.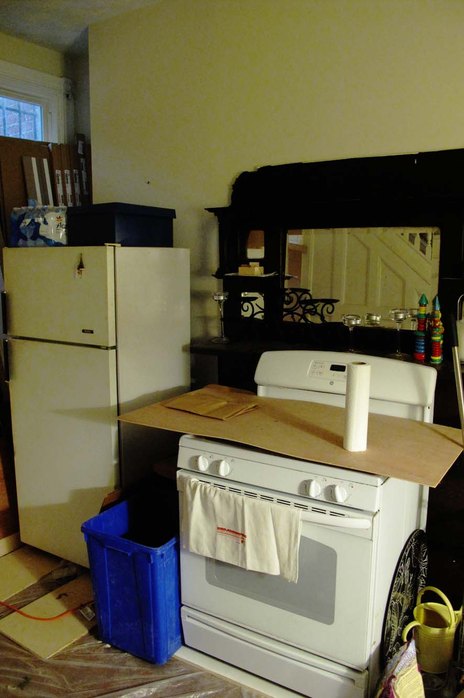 We closed off the living room with our pocket doors (yay old house!) and moved our hand-me down ikea island and a rolling pantry with butcher block to serve as prep space and house pots/pans/and dry goods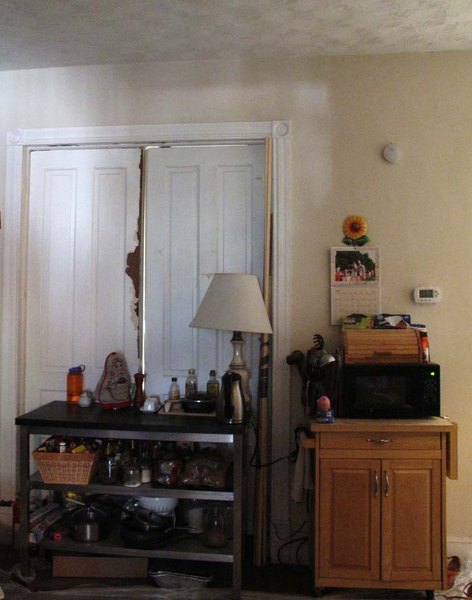 And of course we are using the massive shelves that Sergey (and I) built in the dinning room for storage of dishes and other small items.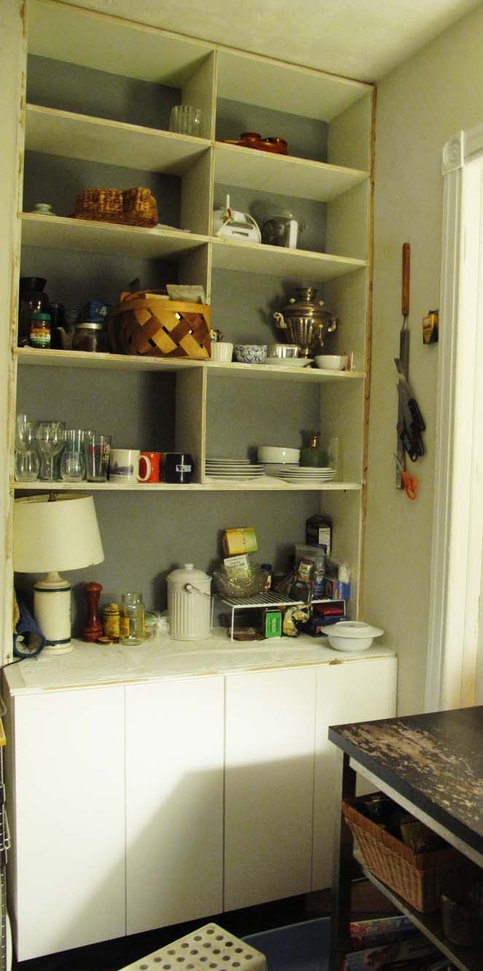 Speaking of shelves, the are looking good. Though they aren't done. We just run out of time. I was actually out of town for most of April, traveling to Russia and London for work (I came back just 2 days before demolition party). And poor Sergey had a big task list from me to do on his own, so these still need trim on the edges, another coat of paint in places and clear poly. So that will just have to be done once we aren't using it for kitchen storage anymore.
As for cooking we have quite a few options, I got this $15 hot plate from amazon, which so far has worked great. We also have an electric teapot, a microwave, a slow cooker, and the grill outside.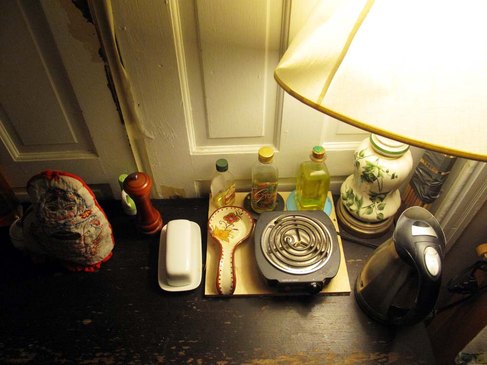 So far the only truly annoying thing is washing dishes. Not even because of carrying them to the bathroom sink (though that too) but because bathroom sinks are way not deep, unlike kitchen sinks, and therefore make washing pots, pans and wine glasses rather cumbersome.
But overall this is not bad at all.