We are getting a bit tight on timing, with structural builder coming in next Monday and actual kitchen work schedule to start June 1 (make it June 4, Monday actually). Plus we have been doing a bit of traveling on weekends for weddings and family/friends events, which makes weeknights the only possible time that we can squeeze in some more demo and prep work.
Obviously that wasn't going to get our bricks walls clean and ready to go for June 4. So I broke down and said yes to hiring someone to come in to clean them up and re-point. It wasn't exactly cheap $550. In fact, I think we overpaid. But the guys came in the next day after we called and after a day and half of work, we had something beautiful in the kitchen (finally!) They did a pretty good job with re-pointing too:
We held off on the chemicals and had them use just wire brushes, soap, water and then plastic brushes for a more gentle scrub since old brick is fragile. We used old lime-based mortar for re-pointing, which expands and contracts with the weather and is the right stuff to use with the old time brick. Though we are planning on sealing the brick, not sure what that would do to the brick in terms of breathing.
In process shot, though I am not sure there is much difference noticeable in the photo: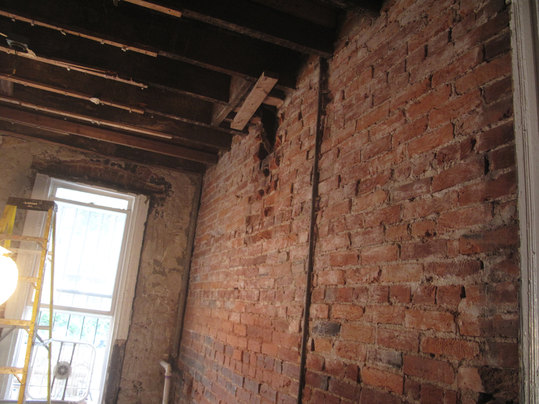 Now to the floors. We had called on professionals for an estimate to refinish our floors (we need to do that too – after the kitchen though) and also for an opinion on what to do with our kitchen boards that we found under tile and plywood.
We also figured that we might as well see what's up with the floor in the small bedroom above the kitchen. From the ground up it looked like there might have been some damage to the wood there. So we cleared out the room – which btw, was not fun as we appear to have acquired quite a bit of stuff, but that's another story.
Honestly, in the two plus years that we have owned our house I have never been less exciting about undoing the ugly "improvements" that have been inflicted on it. I think I am just tired of constantly adding up the numbers in my head and thinking how much something is going to cost. But anyway, here's what we found: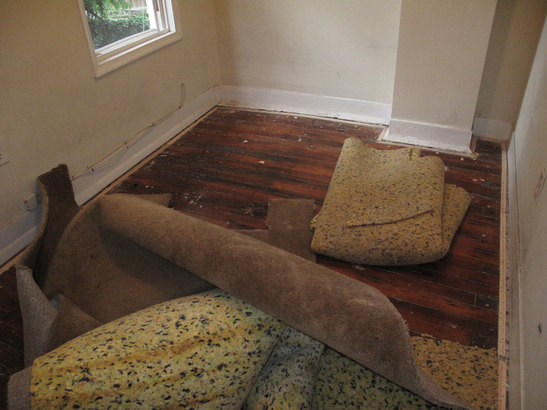 Ah yes, we got super lucky with our floors downstairs, but it couldn't have been all like that. The good ol' patch job:
It all looked kind of discouraging in fact, with really dark spots and a bit of rickety feeling, though that probably had more to do with the fact that since exposing our ceiling you can now see through to the first floor between the boards.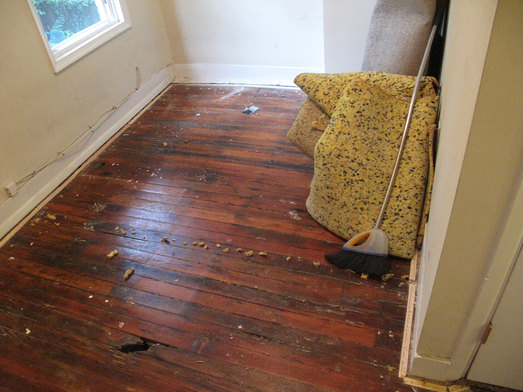 Now what we learned yesterday from the floor guy is that things actually aren't as bad as they appear – at lease in the bedroom. Our floors are made out of Southern yellow pine, and are 3 inch-wide boards, which are in pretty good condition.
The bad news is that our kitchen floor doesn't appear to be worth keeping at least in the kitchen, for several reasons. First, we have to take it up in order to put plywood under it; second, we don't have nearly enough to cover all of the floor, and moreover some of the boards just aren't looking good. However, we can reuse them to fix problem areas, like the patch above.
So we are back to tile in the kitchen, and which also means that Sergey and I have a new task of carefully removing the wood in the kitchen until it can be reused and re purposed.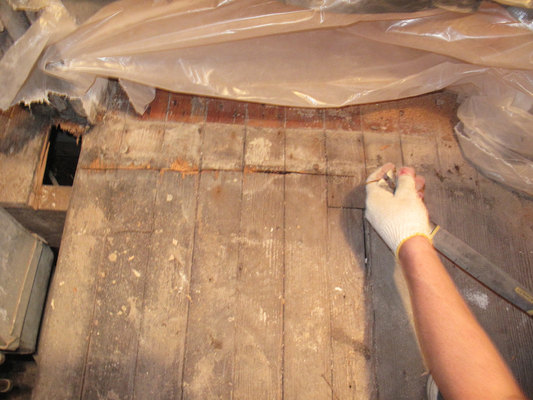 So while Sergey worked on carefully prying off the boards, i worked on getting old nails out of them to get them ready for storage.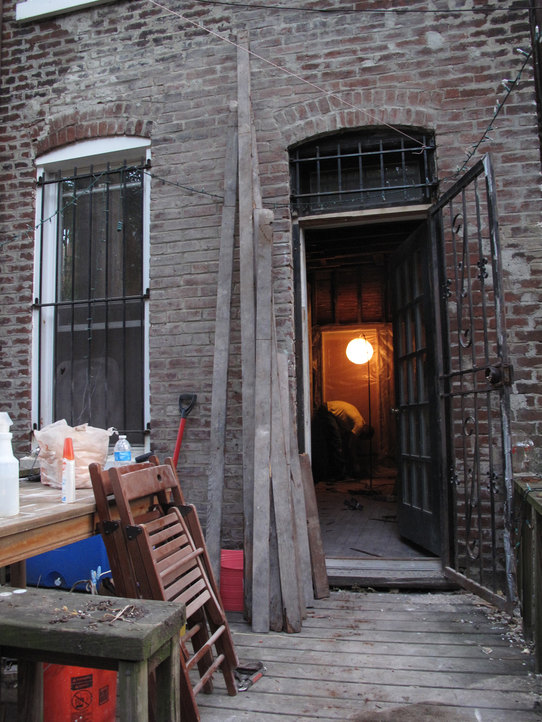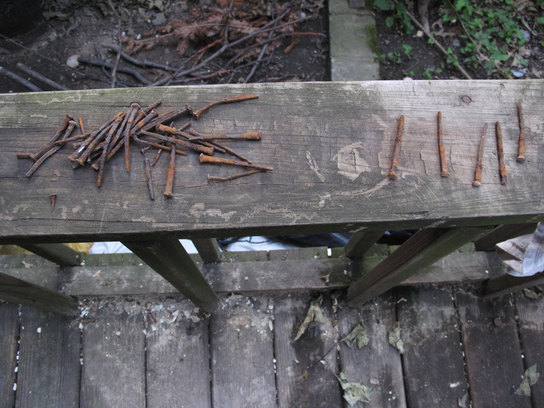 we are about half way there, so good thing there is friday after work. This weekend we will have to clear out some of the debris in the crawl space below the kitchen in order to level and seal it.