We are putting meetings on the calendar (with each other and architects), pens to paper, and I am pinning away like a mad woman in search of perfect design plan for our currently unfinished basement. This actually is my favorite part of the renovation, before the reality of a price tag and structural restrictions sets in. We do have a rough framework to guide us – defined by existing dimensions, a few considerations, and an overarching goal of creating more light.
DIMENSIONS AND FLOOR PLAN
This is the exact dimensions of the basement that we are working with, which is about 800 square feet.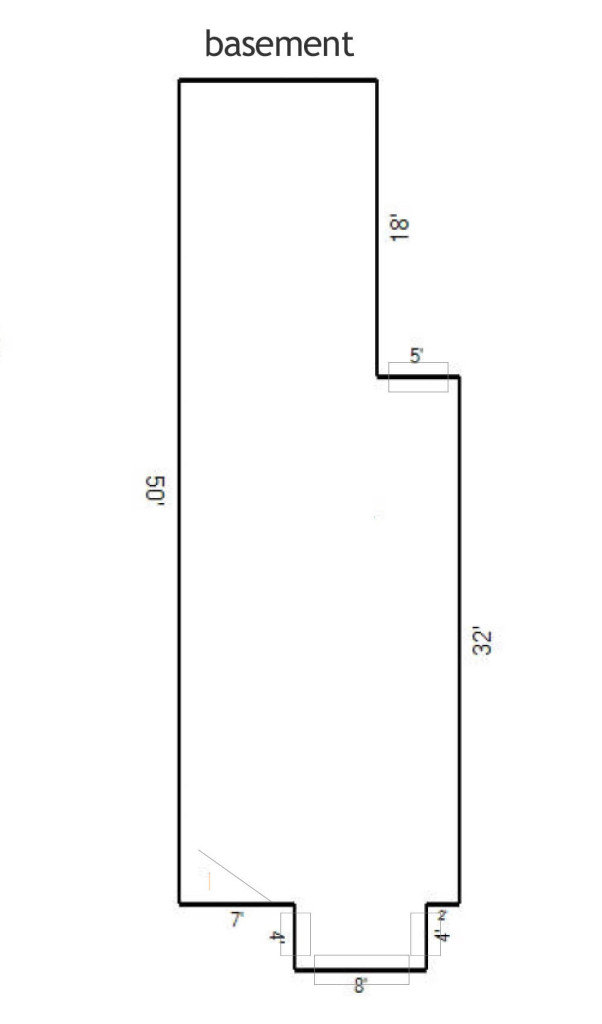 CONSIDERATIONS
We have two big – and interconnected – considerations right now…Although, I am sure there will be lots more, once we get more into the weeds of planning and construction.
1) The basement has to be dug out; right now the floor to ceiling height is just over 6′ at the highest point, and maybe 4′ at the lowest, towards the back where it's more of a crawl space rather than usable space.  We will be shooting for around 8′ height for the entire basement.  The big unknown is whether we will need to reinforce our foundation  – fingers crossed our neighbors took care of that for us when they dug out their rowhome basements (but really you never know, shoddy construction and renovation is ALWAYS a possibility).
2) We have very little natural light. Unlike some of the row houses in Washington DC where the basement is essentially on the first floor / garden level with standard height windows, our basement is mostly sub-ground with tiny windows and little natural light.
GOAL
Our most important goal is to create as much light in the living space as possible. Given that we absolutely have to dig, we might as well add, enlarge, and get creative with our daylight sources. Obviously we will be limited in how much we can do, but our creative wheels are in motion and spinning as hard as they can.
INSPIRATION 
So you gotta dream big right? Shoot for the moon and hopefully you'll land somewhere with the stars? And if we are dreaming big – short of getting a whole new house with a garden level basement and standard window height (can you tell we are just a wee bit jealous?), I am going to go with this. There is really no need to explain why – just look: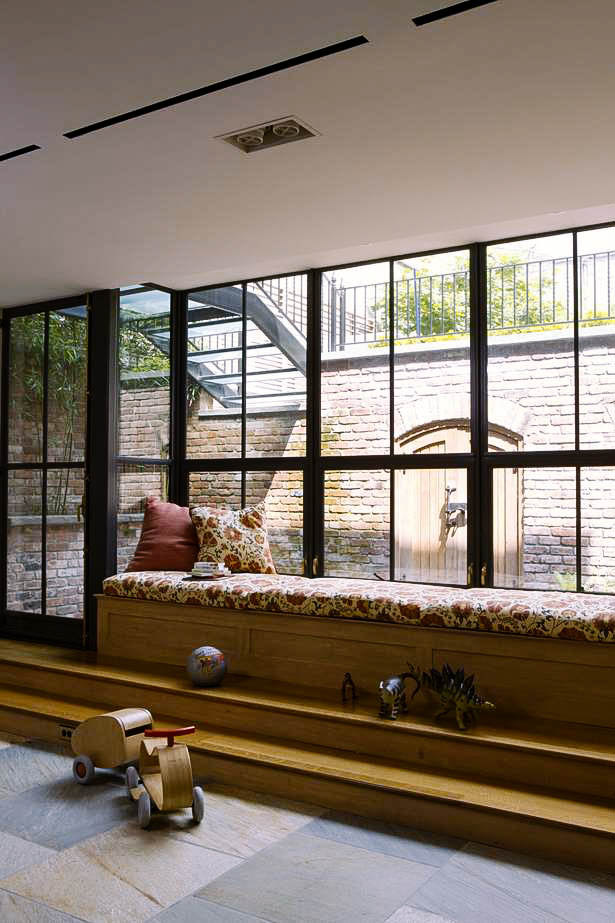 Brooklyn, NYC brownstone. Architect: Robinson Grisaru, Photography:Melanie Acevedo.
This is glorious — and if your basement walls looked anything close to this, I am pretty sure I would be spending the majority of my time in the basement. Who gets to say that?! No one, that's who. Unless you of course call this Brooklyn brownstone home.
I don't need to price out the idea to know that it's out of our budget. I am not sure that we are even structurally set up to be able to do so, so I am not too sad about it. Or a little sad, and a little dreamy, which is ok.
Now for some slightly more realistic day dreams. 
WINDOWS
Since we are going to be digging in the basement, which is going to involve – most likely engineers and structural work – we might as well throw in window work. We have two tiny windows at the front of the house, and none in the back.
Egress Windows at the Back
Per city regulations we will be able to do pretty much whatever we want in the back, as long as, the work is structurally sound, stamped, signed and approved. I am thinking egress windows, which should dramatically increase the size and the amount of light.
Image sources: Pinterest (no original); DNM-Architects; pinterest (no original). 
Adding egress windows will also ensure that we meet code for having double exits from the basement – though technically we aren't closing off the basement from the rest of the house since there is a staircase from the basement to the first floor. But the more good reasons to add egress windows, the better!
Regular (Small) Windows at the Front
Unfortunately I doubt we will be able to increase the size of our windows much in the front of the house, since our house comes out onto a city sidewalk, on a big, busy street. Will have to check code, but even if we are able to put in larger windows, I am not sure it's worth it for a view of constant traffic and a bunch of people walking by. But even a small increase, with nice big windowsills should hopefully improve the situation.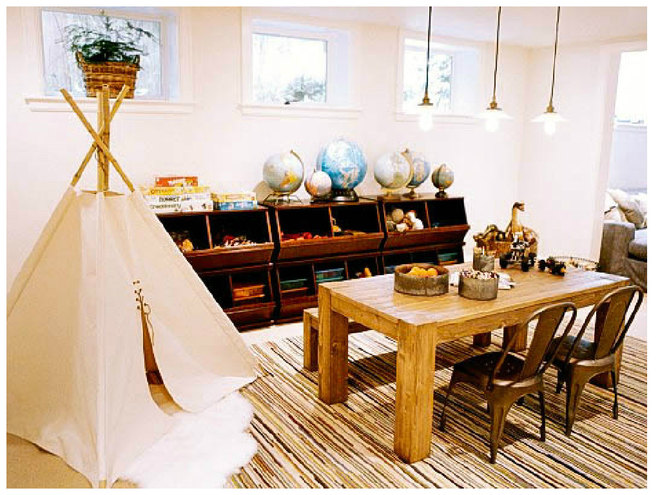 Image sources: HGTV; Architecture and design by H2 design + build, photographed by Belathee photography published in mydomaine.
Don't these basements look amazingly cozy and light-filled despite the small windows? Now, I am sure there is some photography skills involved in making these images so appealing, but still if we can get to somewhere close to this I will be pretty happy.
GLASS DOORS
We have a separate entrance to the basement from the front of the house. We will likely put at least a half glass, if not full glass, entrance door. Something like this:
Image source: Desire to inspire
At this point we aren't sure about whether to put in a second basement door to go out into the back yard. We can technically do so where we have a side window right now. But, the basement is and will remain connected to the rest of the house via stairs, so I don't think we actually need two outdoor entrances.
So there you have it — as far as natural sources of light. Of course there's all sorts of things we can do with indoor lighting, choice of materials for floors, walls, and adding accessories to reflect light. So stay tuned for those plans and inspiration, and of course we will be blogging through out the process, so you will get to see how all of this will pan out.
In the meantime, we always love to hear ideas and advice, especially from those of you who have an improved basement, have ever lived in the basement, or if you just have an opinion and want to participate — how do we create more light in the basement?