So Peter inquired what a dream kitchen might be…well the concept is still evolving, and will be for some time. but for now, here are some ideas:
– exposing brick on the wall that is opposite of where the appliances are. maybe expose brick in all of kitchen? one issue that we are going to have to look into is the wall where all the appliances currently are, as it is actually just drywall that hides all the appliance cords and god knows what else. we discovered this when we took off that gross range hood that used to be over the oven (it hid lots of dead cockroaches and was covered in mounds of grease that was painted over with white paint). so we probably have another 5-6 inches of floor space in the kitchen.
– tin ceilings. that would look awesome with the exposed brick. copper color or silver. and actually come to to think of it, tin ceilings may be nice throughout the first floor of the house, maybe painted in white? we have really ugly swirly things (made with paint) on our ceilings that will eventually have to go. (according to this, there may be some tin ceilings in VIB already).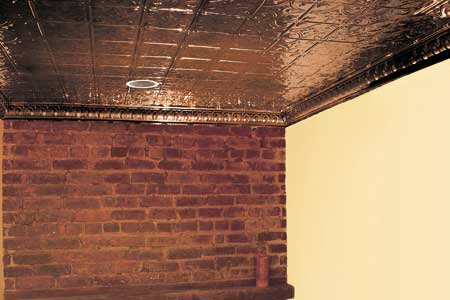 (via TOH)
– new floor tiles. this will have to be super neutral due to brick/tin. maybe hardwood? maybe there is some under the tiles that we have?
– and then of course the obvious stuff like cabinets and appliances. and also a kitchen island!