We have been plugging away at putting together our 18 building blocks of fun, i.e. our Ikea kitchen cabinets. (More on why we chose Ikea here). And by we I mean Sergey and friends. And by fun I mean until it starts being a total pain and is fun no longer (a fair share of time). Here's Kirill -he's actually been an all around super helper:
And Chris and Tricia dropped by Sunday:
And our dear friend Peter, just off the plane from London where he spent the last two years. We were so glad to see him we put him straight to work:
(He did actually help to assemble cabinets )
The moral of the story, if you can't hang out with friends and have fun in the way all normal people do because you are renovating, you should trick/bribe them into coming over and helping you to have some fun!
As for purchasing the kitchen, which I never wrote about, its been a long time! I made the  purchase on  Good Friday (yay stock market holidays). The reason we did it so early is of course that we wanted to catch the Ikea kitchen sale that ended 29 April and in our naive and wild imagination we thought we would be starting kitchen work by June-ish. Alas.
There is actually another Ikea kitchen sale going on now. Biggest piece of advice: Go straight at 10 a.m. on a weekday, be the first person in line, and you will be out in 1 hour and 40 minutes flat. With no annoying little kids running around, or pissed of customers fighting with each other Ikea's kitchen designers (well at least for the first 40 minutes or so).
Store emptiness = bliss and fast transactions!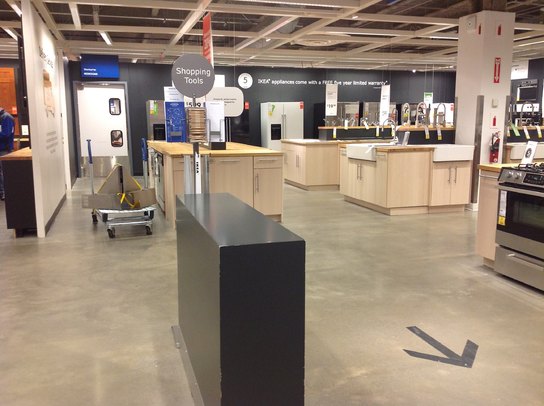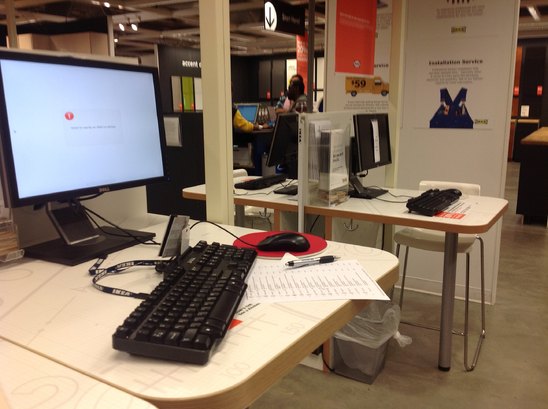 Our kitchen came in at just $4500. — we actually had to buy a few drawer dividers and organizers to get up to that number, but that's cool since we probably would have wanted these anyway. And if not Ikea offers exchanges and additional purchase at the sale price even after the sale, as long as you have your receipt (hopefully that's still the case with over 90 days from sale, have to check).
The second best part, is getting ikea delivery – flat $59 gets us more than breakeven on the costs incurred of renting a uhaul ($30 with insurance), gas (probably $20) whatever the mileage charge is, plus the time that it would have taken us to get the van/ return the van/etc, etc.