Not really demolition so much as cleaning up, prying off plywood, and cleaning the exposed brick. Our Saturday started really early – with a uhaul reservation for 7 am. DC dump allows uhaul size of up to 19 feet, so that's what we got cause we were quite certain that we would need as much space as we could get to haul all 100 trash bags of kitchen cabinets, drywall, plaster, tile and whatever else miscellaneous crap that was taken out of our old kitchen.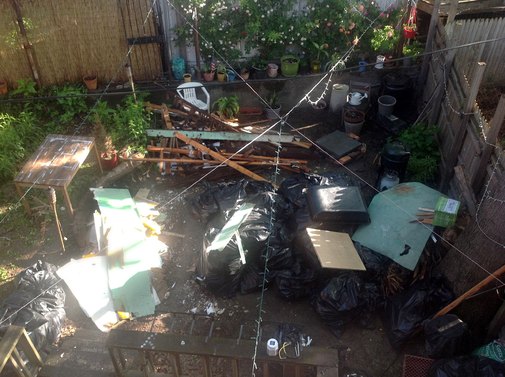 We hired two day laborers to help Sergey haul out the bags to the uhaul and then to dump them at the station. It actually went much faster than expected, in about 45 minutes our yard was all cleared out, and according to Sergey it took like 10 minutes to unload at the dump (heh).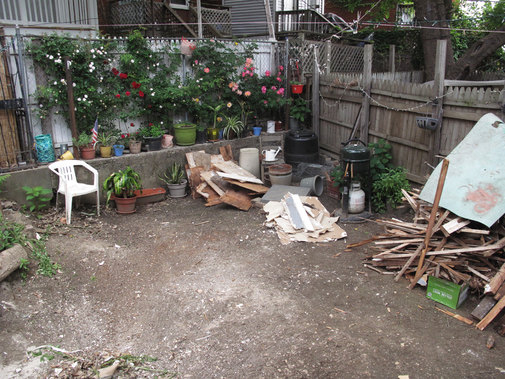 We are keeping all the wood either to reuse (particularly the old beams) or for our fire pit.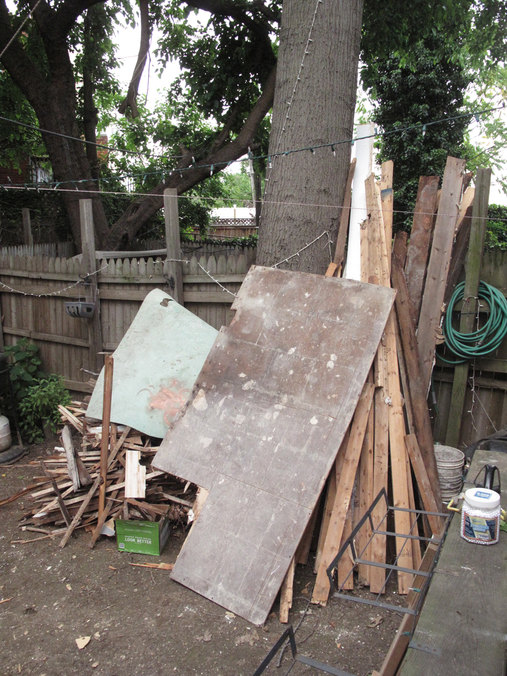 I never took a picture of the uhaul as this early I didn't even think of such things, though we certainly I'd not fill it up — not even close, maybe half way.
Total cost for disposing of trash $200. uhaul was $75, labor $60, bags $60. just to rent a dumpster would have cost us about $300, plus the headache of dealing with DCRA to get the permit to place it on a public sidewalk since we don't have an ally. and still have to add in the labor and the bags.
After a break of breakfast we picked up where we left off with the floors. Let's just say that prying off plywood is a huge pain. Between the two of us we used three crowbars, making initial cuts with the an electric saw to facilitate things.
layer 1 of plywood: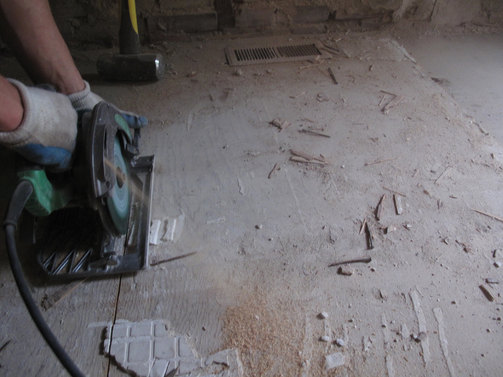 work, work, work. there were so.many.nails.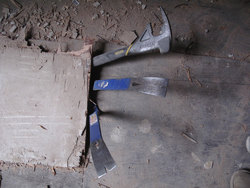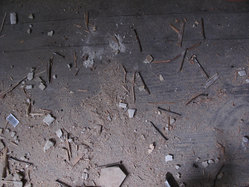 finally, layer 2 of plywood: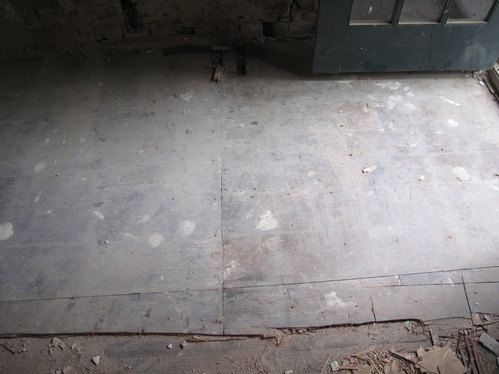 annnnd, hardwood, finally: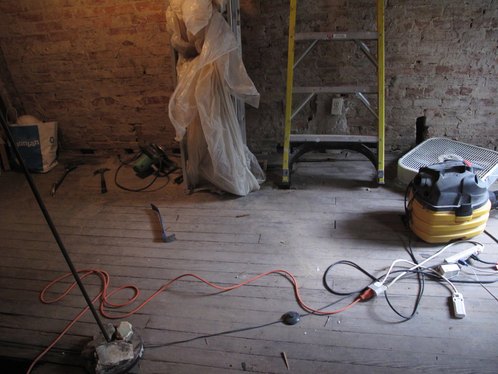 We exposed all of the existing hardwood that there is, leaving plywood in place where there is nothing under the plywood.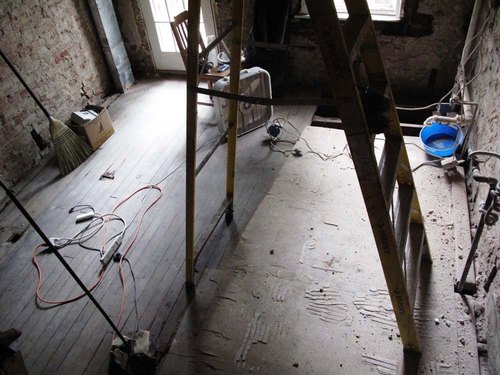 Overall, the boards seem to be in decent condition, with the exception of sections on the edges next to the wall and by the bathroom. The jury is still out, we are going to wait until professional floor re-finishers give us advice. These guys are coming by in 2 weeks.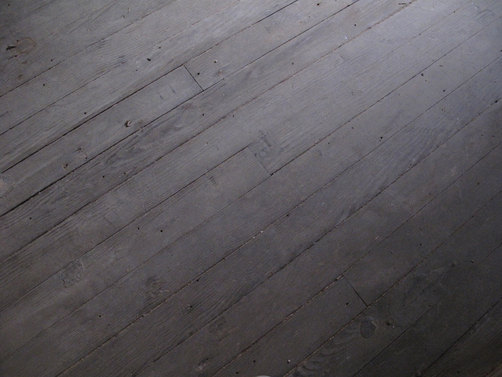 In the meantime, we are also going to take up carpet in the bedroom above the kitchen to see the condition of the floors there. Looking up from the kitchen (since we took down the ceiling) it seems there might be some damage so another alternative is to re-use kitchen hardwood floor upstairs.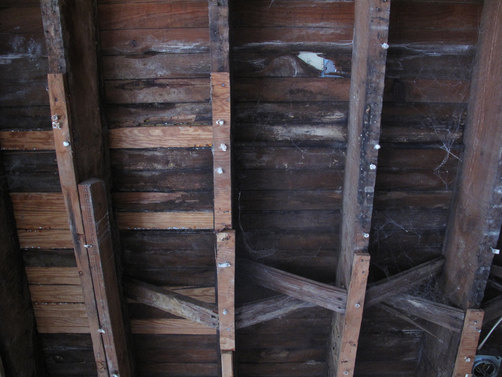 We finished off the day by starting to clean our bricks. I realized that we should probably do the side of kitchen where there is no floor under the plywood before we take it off.
So far we have used wire brushes, which has worked pretty well, and I like the look of leaving some of the old mortar and dust on the bricks so they don't look perfect.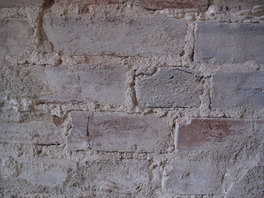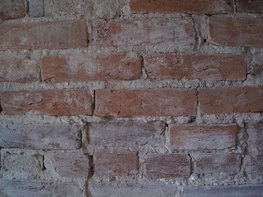 first day's results, no where close to finished and thinking about possibly using the Mauriac acid solution to speed things along :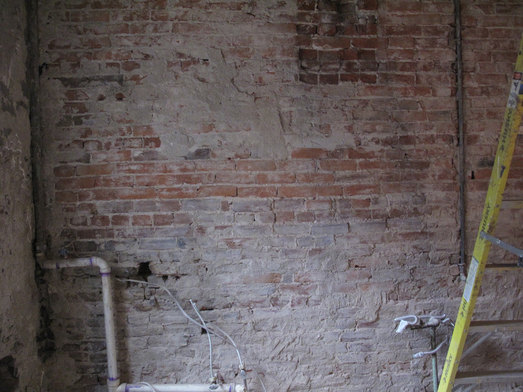 I am waffling a bit actually on whitewashing the brick, because ours seem to be in such good condition and the color is so great. I think final decision will be ,are depending on what happens with the floor – tile or wood…