I guess the tile floor is another one of those super time consuming projects? A week and a half in of work (not by us, by the contractors) the kitchen floor is nearly complete. I really love the tiles and the dark grout, which together have come out looking quite nicely.
Here's last 8 work days, or so – first up, Mr Otto enjoying the new tiles (actually this is his look for can I please go outside now?!)
And now with grout – this seems  to have been the most time consuming part. Cleaning off tiles from thinset, putting in grout, cleaning off extra grout, adding more grout. cleaning again, uff.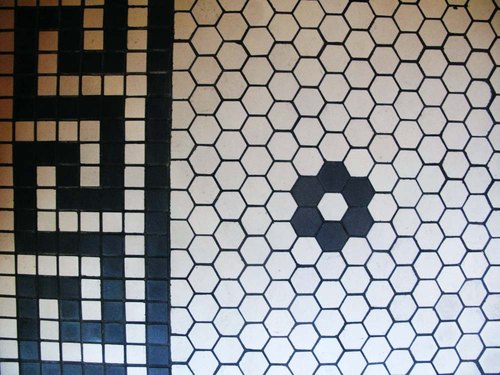 I thought that by ordering the tile in sheets – with the flower already inserted I would be saving a lot of time on the project. But this is still taking a looooong time!I must say though, I can't even imagine where we would be if we asked for the flowers to be put in one by one… We are starting Monday here: