To save some money (the estimates for demolition were all over 1k) Sergey and I plan to do much of the demo work ourselves. Here's the plan, which will probably take about a month to complete (and since it will take 4 to 6 weeks for french doors to arrive once ordered – the timing works), and should –hopefully–be all done by our 1 June start date:
1) Check to see if there is an old chimney concealed behind kitchen drywall. We are almost certain its there, since there is a dead-end chimney on the roof, a bump out in the second floor bedroom and about 6″ of 'dead' space between drywall and actual brick wall on one side. If so, take out chimney (starting with the roof). Should not be difficult just tedious.
above kitchen wall skewered to check for space (yep 6″), and below chimney and curious bump out in the bedroom directly above kitchen
2) pack up kitchen, remove appliances and set up a camp kitchen in the dinning room using new built-in shelves.
3) clean up backyard to prepare it for leveling (see below #5) and remove our deck (which currently sits on top of bricks and is not really attached to the house) to our neighbors backyard.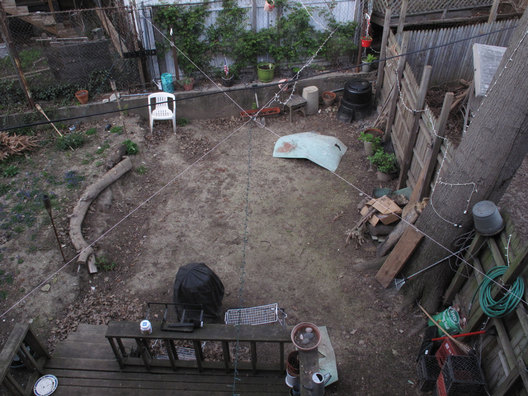 4) have a two-day demolition party where we invite friends to exchange their labor for pizza and beers. On the agenda:
 remove kitchen cabinets and counter tops
 remove drywall and plaster from walls (we will be doing exposed brick)
 demo yucky, ugly floor
5) Level backyard with dirt from crawl space – right now we flood anytime it rains since there is no ally and our yard dips below neighbors on both sides. house foundation gods cannot be happy with this situation.
6) clean, point, paint, seal brick on the inside – i am thinking white washed brick right now (although i am entertaining some thoughts on maybe grayish or even blue, since right now the color palette is pretty much all white.)
our friends' beautiful rowhouse in bloomingdale with exposed, white washed brick walls in the kitchen
7) find and prep for installation molding similar (better same) to the rest of the house.
8) prep doors and tin ceiling panels that we purchased at salvage shops (like two years ago).
9) find a builder to install french doors and level floor joists.
10) find an electrician to do a heavy up (increase the amps that our electrical panel can handle- right now we are at our max).
that's it. let's go.