Early on I decided on whitewashed brick for the kitchen, because key operation word here is light. I though about keeping the original color, particularly because our brick was in a beautiful condition when we cleaned off the plaster but decided in the end that it would just be too dark. I feel that exposed brick is almost always heavy left as is.
This was my inspiration: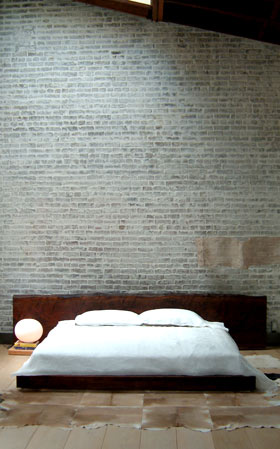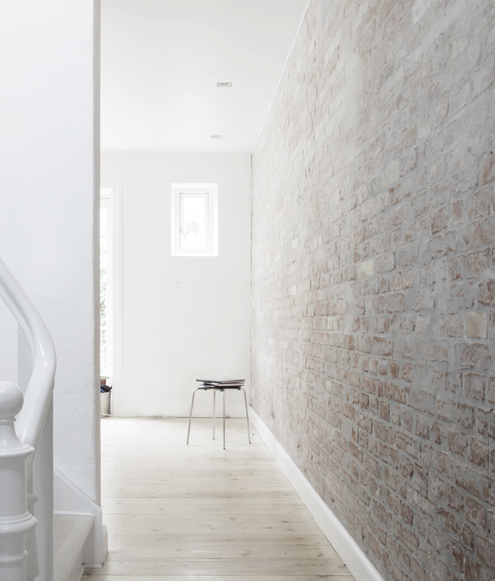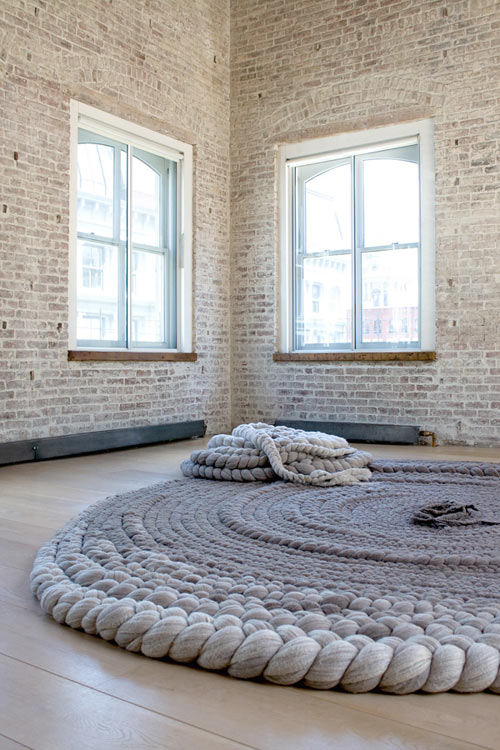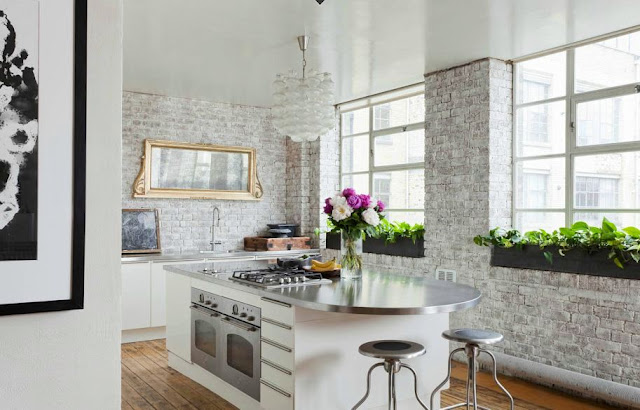 Source: AT; Norm Architects; Dana Barnes; CoCoCozy;
I liked how the texture and the color of the bricks still came through the white. So I did my little paint sample (and used like 5 different sample pots of various white pain, so silly, they all looked the same). I thought it looked pretty good. But felt like I wanted more texture.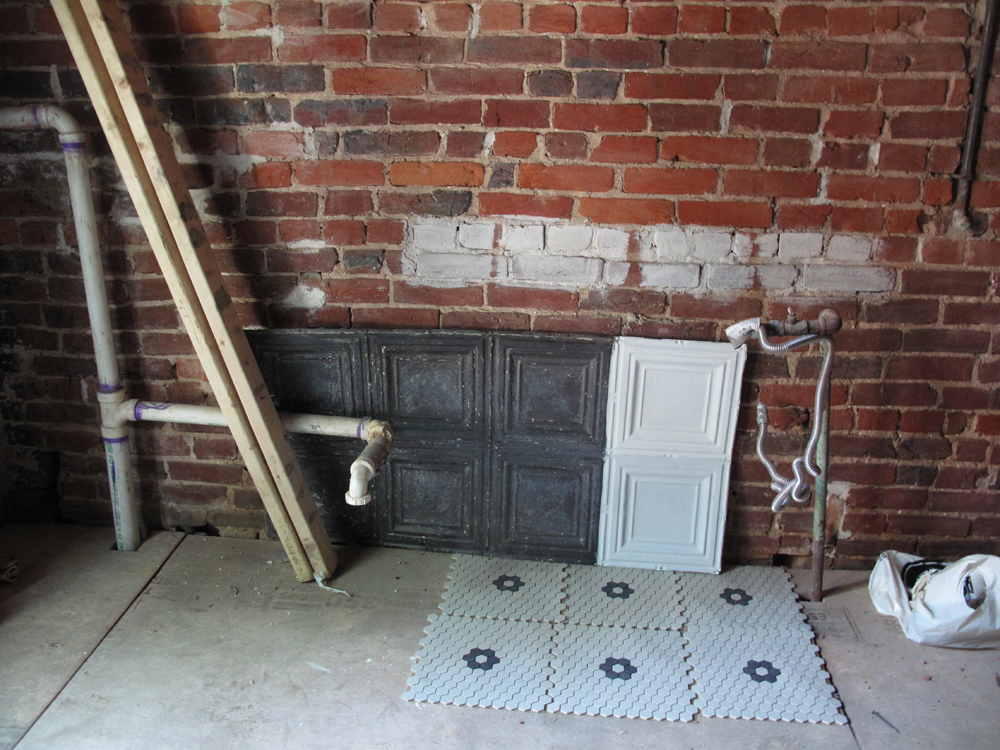 HOW TO: Whitewash Brick
Make Whitewash Paste: After a bunch of googling I came up with this basic whitewash recipe for brick:
Mix with water until it resembles pancake batter, see below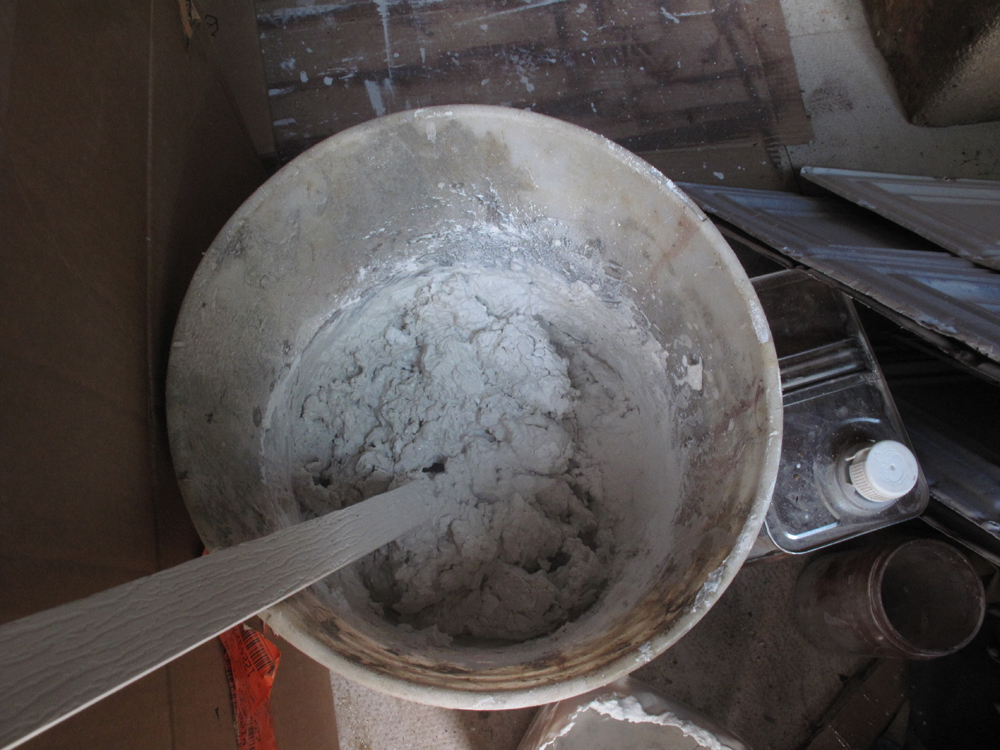 Apply Whitewash: Since the brick is far from smooth and perfect,  I used an old gunky brush to paint each brick and mortar lines.The process went pretty quickly, though going up and down the ladder was kind of annoying. The whitewash goes on lighter and more transparent than when it appears once dry!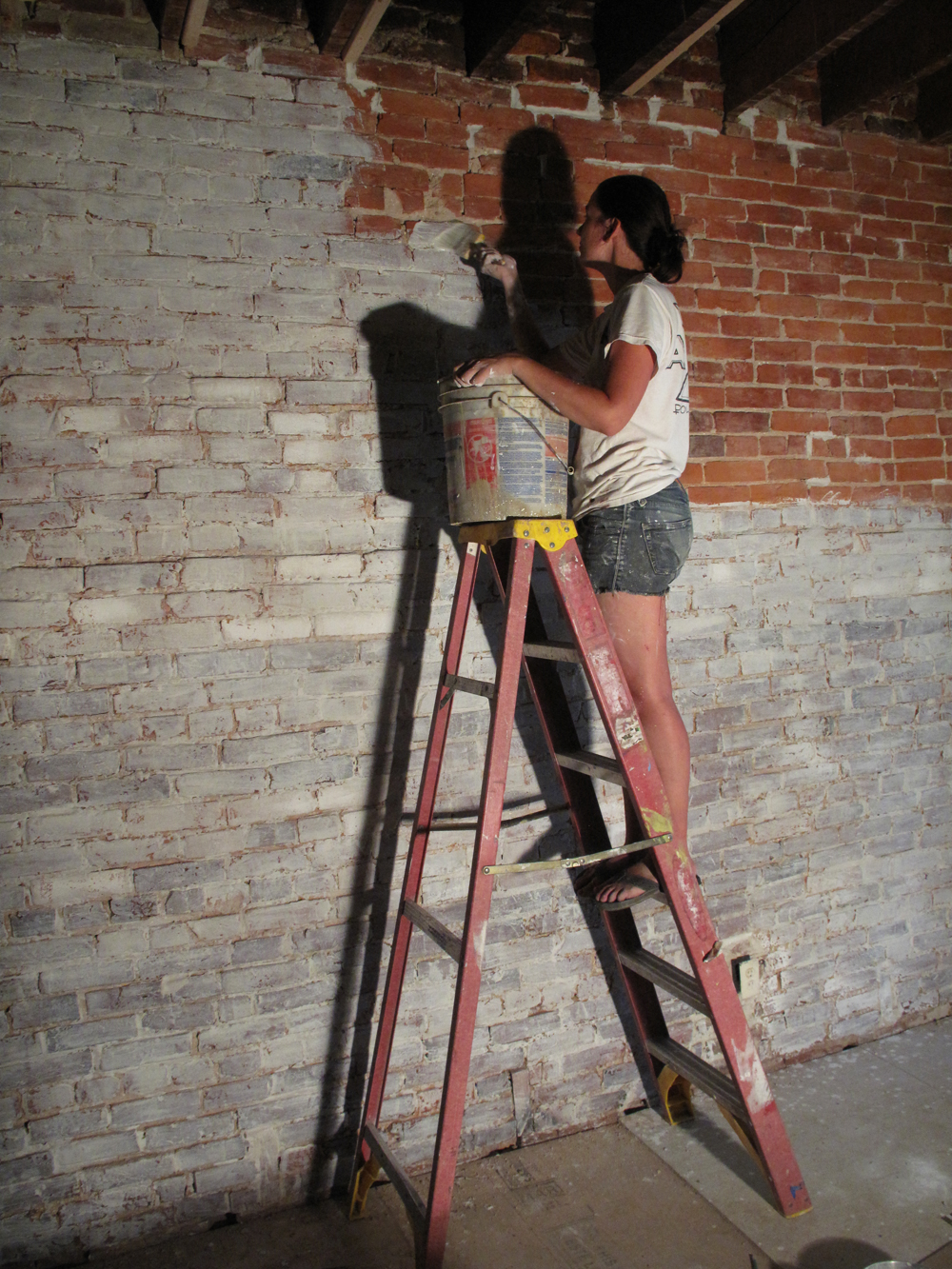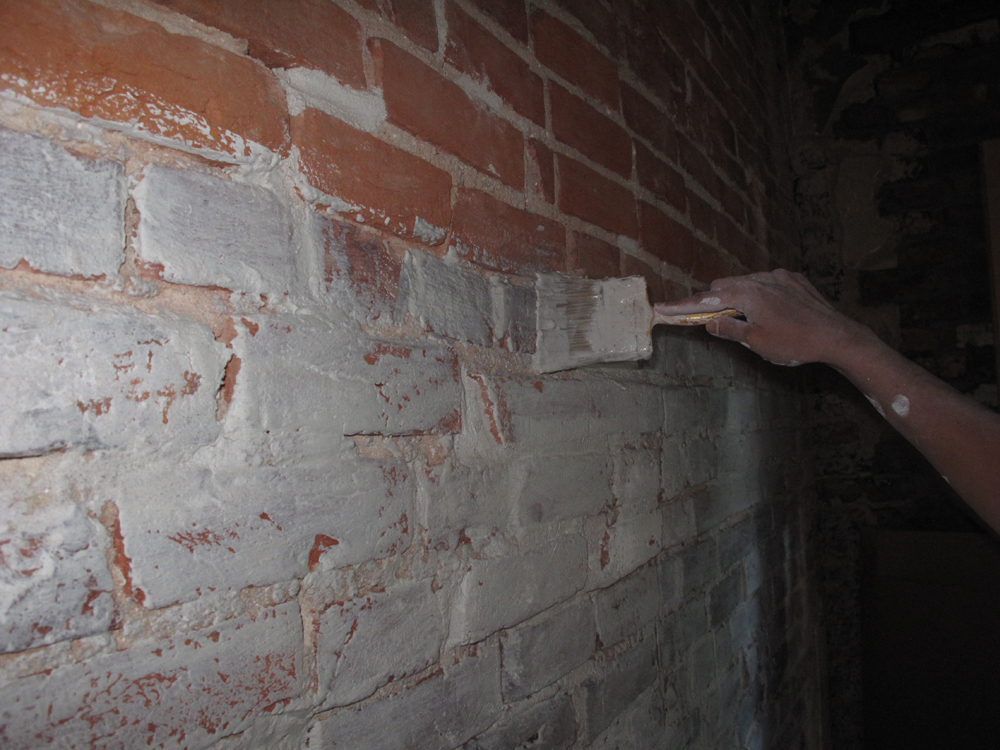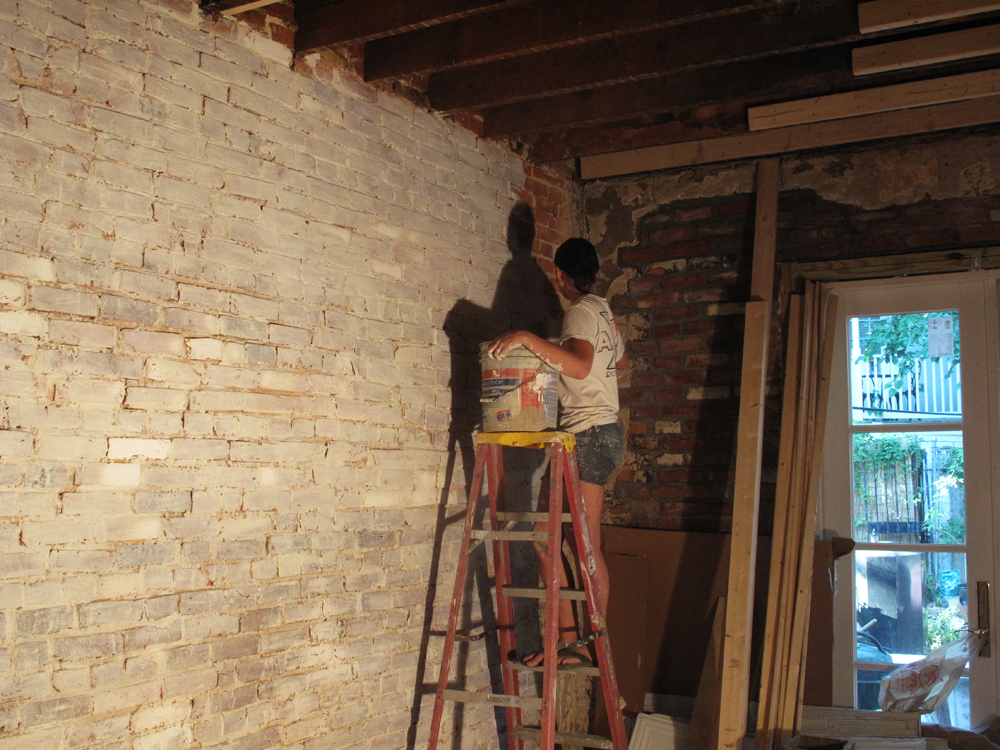 I was actually quite lazy, and only applied the whitewash on the brick that will not be obscured by the kitchen. Since the bottom will not be visible behind the cabinets/ appliances, I skipped on the white wash over that area.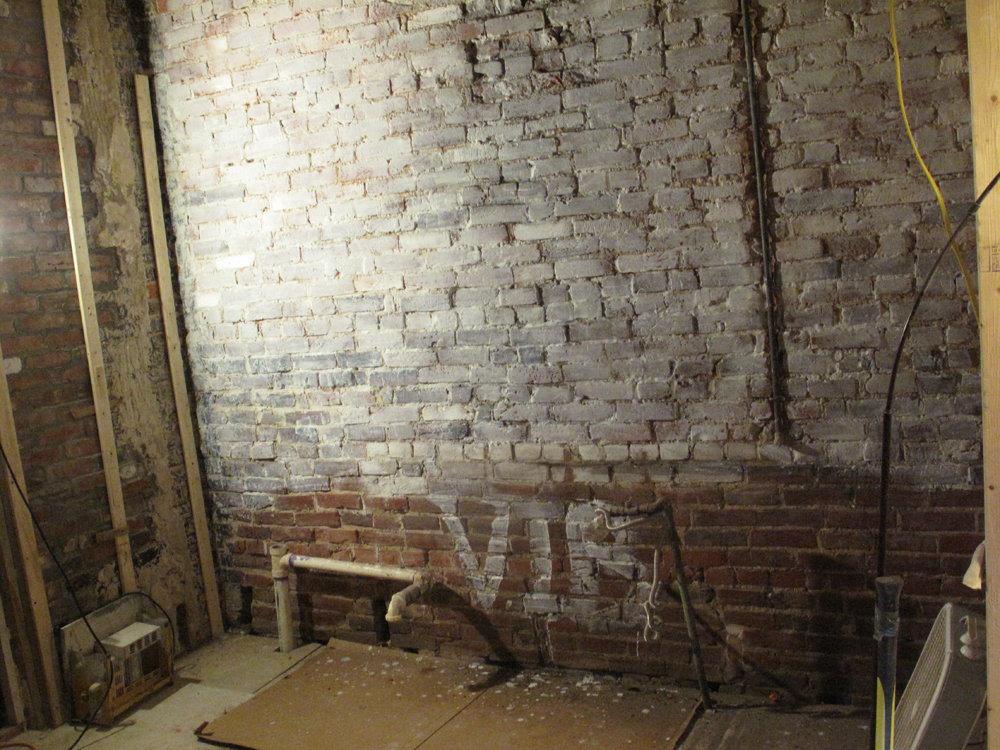 That up there was exactly the coverage that I wanted. However, little did I know that whitewash dries to be much whiter. Brilliant white. Also, parts where the paste went on thicker dried even more so.
Age Whitewash: I did not want to have solid white brick, so I used a wicker brush to get some of the whitewash off. While that method worked, it would have taken me for-ever. Then, thankfully, in a flash of brilliance (or happenstance) I saw my trusty electric sander, just sitting there, waiting to be used. I put in the 60-grit sand disk and went to work. If you end up using the sander, be ware its dusty, very dusty. Pretty much like taking the plaster off your walls.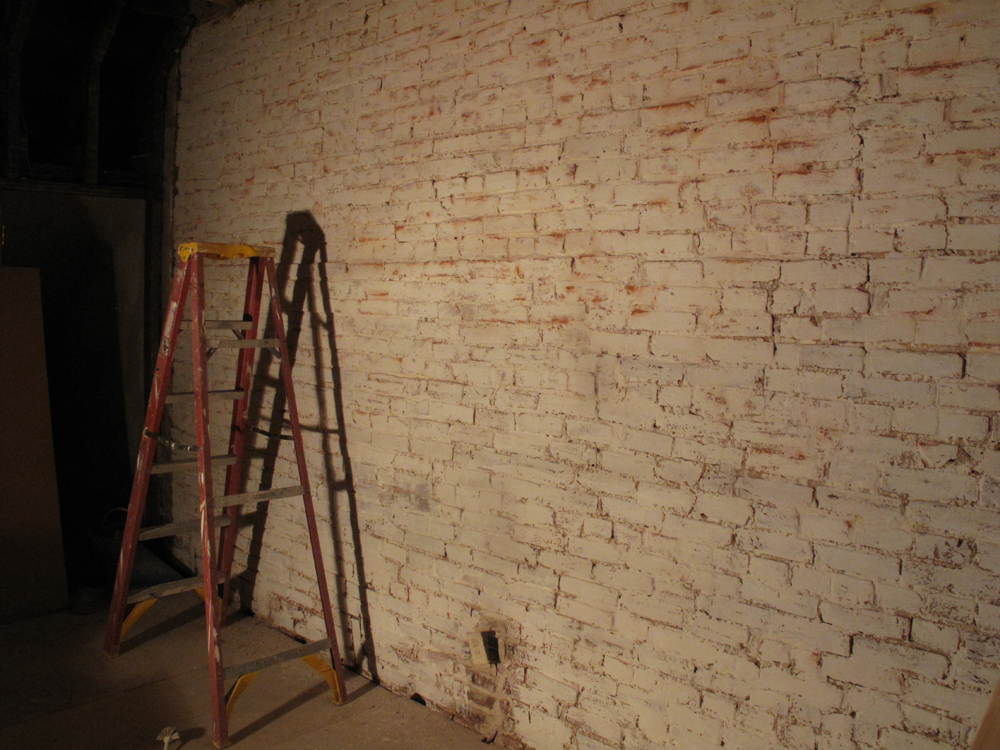 This actually is a night time shot. During the day time it looks pretty much like my inspiration images. And I do think that there is a difference between using paint and white wash. But then again, if you put me in front of two white washed walls and ask to identify which one is paint and which one is hydrated lime, who knows if I would get it right?
Overall, on the scale of 1-10, the whole process was probably a 3. Pretty easy and not too time consuming. Particularly if you are aware ahead of time that whitewash dries a much thicker and less transparent white than it goes on.
Seal: The last step would be to seal the brick, which I didn't get around to until after the cabinets were installed. Ideally, I would have done that right away. You can read about sealing whitewashed brick here.