So as last week all of the construction has happened in 3 days, but we are still scheduled to finish be the end of this week with phase 1, or structural work + major electric upgrade.
I suppose this is as good a time as any to update everyone on our evolving plans – that's a nice word, evolving. Also could say expanding, second-floor consuming, ever more expensive plans. After we took down the ceiling in the kitchen and it became clear that we need to fix the mess of second floor joists, and then when we thought about the fact that we are moving all of the plumbing (except for the stack) and vents for first and second floor, due to new framing for the powder bath (all of those pipes are located inside the walls of the powder bath), we said to hell with it. Might as well do the second floor bathroom.
So here it is, in all it's glory the current and future bathroom layouts. Approved by our friend/architect for spacing, etc.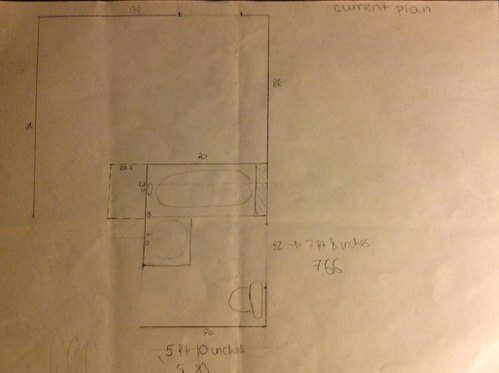 We aren't changing any walls in here, just moving the tub and the sink to new locations.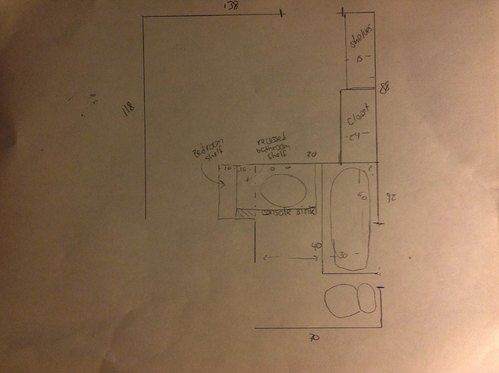 This should make the room feel a little bigger. Plus we are planning on a claw foot tub and a console sink which will expose a lot more floor square footage.
Source: Ken Levenson Architect P.C., bathroom from pinterest, link lost;
Console sink of course doesn't offer much in a way of storage, save for maybe a towel and a catch-all basket under it.
Source: Dijeau Poage Construction; apothecary sink from Pottery Barn
To fix that we are putting recessed storage in a wall next to the sink, I.e. we are annexing half of a small and almost useless closet (it's only 20.5″ deep!) in the bedroom that shares that wall with the bathroom. The shelves will be 10″ deep on the bathroom side and we will also expose shelves on the bedroom side. I am planning on a recessed storage cabinet under the sink.
When looking for inspiration I came across this bathroom on apartment therapy, and well -I might be running out of creative steam- but this to me is pretty much perfect, and so our future bathroom will look very similar to this.
Now the only issue is how to make that dollar stretch above and beyond what it's prepared to do. I have spent marathon internet sessions comparison shopping and trying to find bargains, but man, bathroom stuff is expensive.