The whitewash brick really looks amazing in the kitchen. I am so glad that we went with this option, rather than plaster or tile — as pretty as those would have been, the brick looks at least just as great and cost us almost nothing, which is a big plus. One thing about white-wash is that unlike paint it tends to flake a little bit. It's also not that great for clean up with water and soap, something that we need to be able to do in the kitchen. So I decided to go ahead an seal all of the brick behind the counter/stove. Now I have surface which I can clean easily with a sponge in case of spills/grease/dirt.
After a bit of research I decided to go with a low-sheen sealer, designed specifically for masonry. I didn't find any recommendations on the internet for the specific type of sealer for white-wash, so I picked out Home Depot's standard in house brand along with a few cheap brushes.
The process of sealing went just as fast, if not faster, than white wash. Since the surface isn't smooth and perfect, I just brushed on the sealer as fast as I could, let it dry and repeat. And that was that! I have since given the walls a wash, and the sealer seems to be holding up great.
We also fixed up the last remaining big gap in our kitchen (hey, its an old house!) where the kitchen wall meets the dining room wall. When we tore down the drywall and plaster we found a straight seam between the brick wall coming in from the dining room and the ones in the kitchen. There was a gap and a very clear difference in the pattern of how the bricks were laid.  It actually *looks like* the kitchen portion of our house might have been an addition at some point. But its weird because the back of every single house on our block and  the opposite block looks exactly the same. So did someone come through and offer to do an addition on everyone's house, and everyone agree? Anyway, I digress.
Sergey filled in the gap with cement left over from installing our floating shelves, and after allowing the cement to dry for a few days, I whitewashed the brick. I continue to be amazed by the power of this solution to completely cover darker areas in brilliant white. It would have probably taken me 500 gazillion layers of paint to get the same effect on the dark concrete.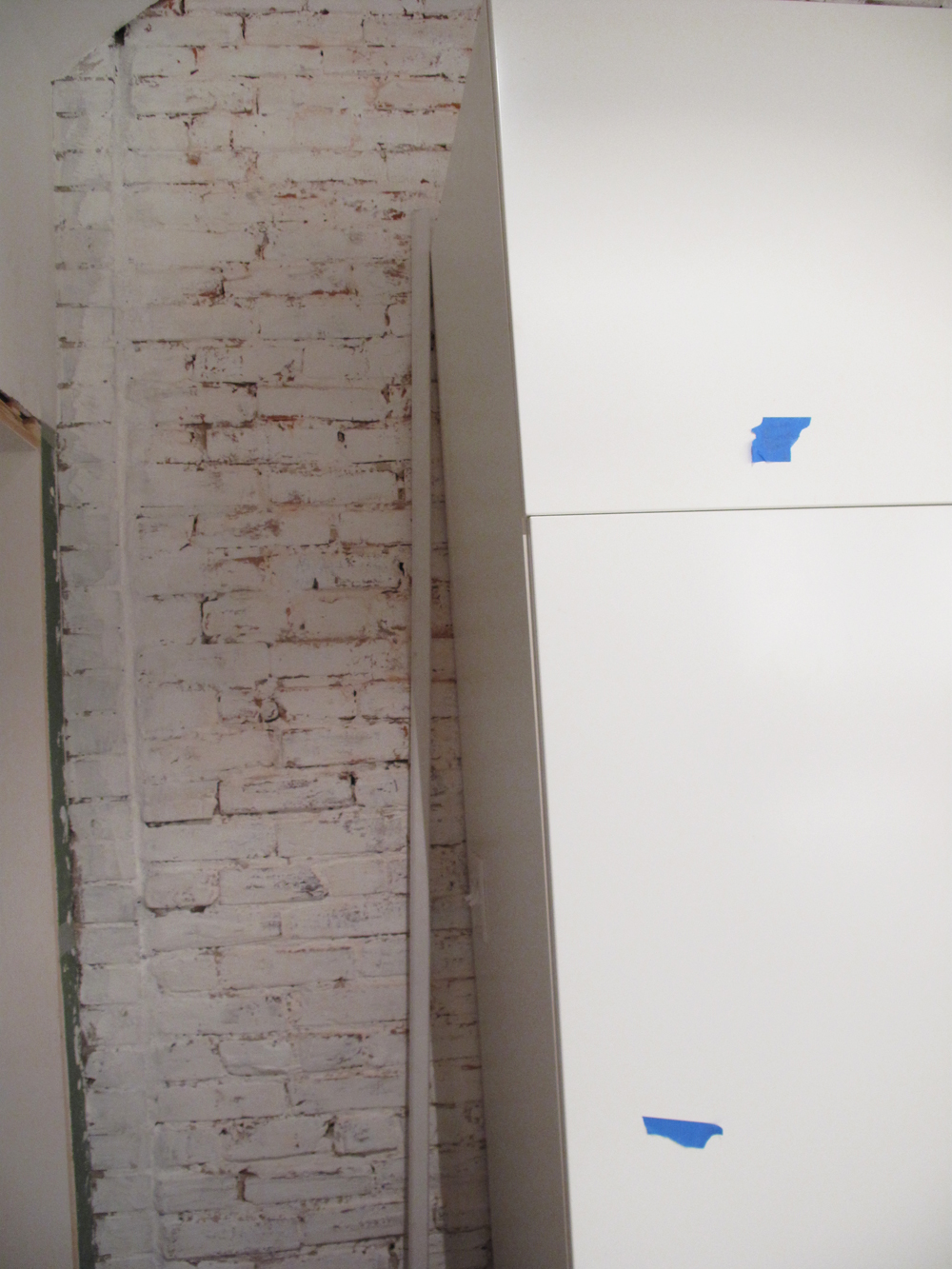 And with that we are done with the exposed brick, whitewashed walls of our kitchen!