While we wait for Construction Day 8 – D-day, otherwise known as door install day (promised tomorrow), I thought I would do another post on our living situation here. I already posted about our kitchen set up, which works just as well as day 1, though we are probably getting additional exercise going up and down stairs to the second floor bathroom any time we need water for cooking or washing produce/dishes.
But now that we are in serious acquisition mode for the renovation, we have added this guy to the dining room/kitchen. Yep, a beautiful claw foot (the feet are upstairs) tub. Sergey has taken to storing his bike inside of it, for full effect of living in construction zone.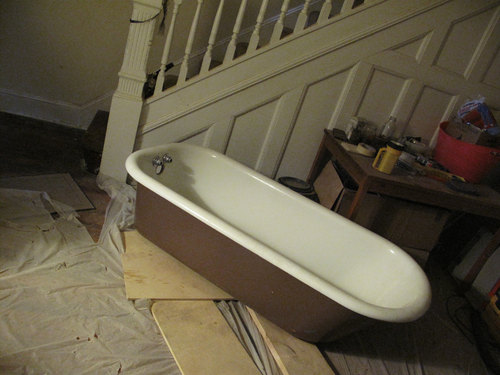 Acquired via Craigslist for $215. Its not in perfect condition, but I think we could get away without refinishing the inside for sometime. And when refinishing comes in at $500, I will take what I can get. The tub also came with a shower enclosure system, which looks exactly like this one over $400 new– which also means that we got an even sweeter bargain. Definitely cleaning and reusing this!
Meanwhile our living room space has shrunk by about half – with an extra couch i couldn't pass up on craigslist (oops), and quite a few boxes containing tile, and of course our Ikea kitchen cabinets (more on that separately), mixed in with a wall-mount sink for the half bath (craigslist – regular american standard porcelain sink – $20 with faucet –this isn't my best buy, i would have preferred an antique cast iron but, whatever, the look and dimensions fit, so its crossed off the list).
Upstairs, we had to  clear out the small bedroom to take up carpet to check the floors, so for now its storage for the bathroom remodel supplies. Another craigslist find – a polished chrome console sink stand from Restoration Hardware for $300 -purchased for a remodel but never used. RH sells this unit (albeit with a sink, but those aren't that expensive) for $800, plus shipping and tax!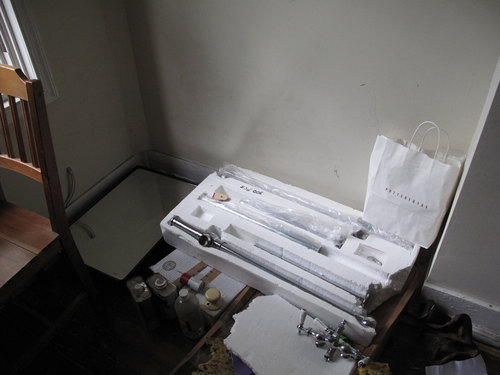 And rounding out my bathroom stock is a bunch of finds from the Pottery Barn outlet – a recessed medicine cabinet ($100 instead of $250), a faucet ($380 instead of $450), and a vanity light ($50 instead of $130) — still need to get a second one.
Our middle bedroom has meanwhile disappeared into the abyss of stuff that migrated there from the kitchen/first floor/second floor.
And we have even had to make space in our bedroom to accommodate Otto, the cat. With contractors in and out of the house, we had to move Otto's food and litter to the bedroom where he stays during the day. But its too messy for photos, so just do your best with imagination ,
Phew never thought I would be feeling cramped in a two-story, three-bedroom house. But there you have it.