While I was traveling in Russia, Sergey was back in DC, getting his Russian on without actually traveling to the place. Lucky him, he got press passes to the soft opening of Mari Vanna, a Russian-themed restaurant – operated, decorated, and staffed by Russians. We have actually checked it out together since, and I can say that the decor is right on point – drawing inspiration from a mix of Ballets Russes, the intelligentsia's dacha, perhaps with a pinch of a communal flat setup in a pre-1917 mansion. In other words, plenty on what to draw inspiration from.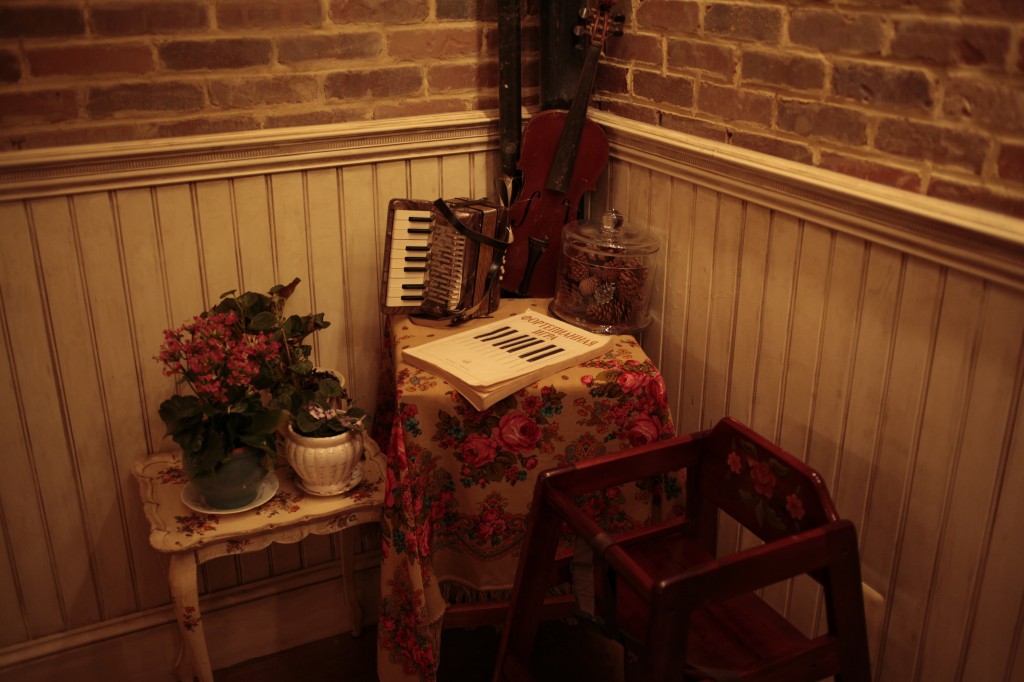 From myself I can add a few recommendations – order infused vodkas in decanters (black currant was delicious), sip with your meal. Blinis with caviar are indeed tasty. order zakuskis (appetizers) – its essential. That's it – enjoy the preview, text by James, photos by Sergey.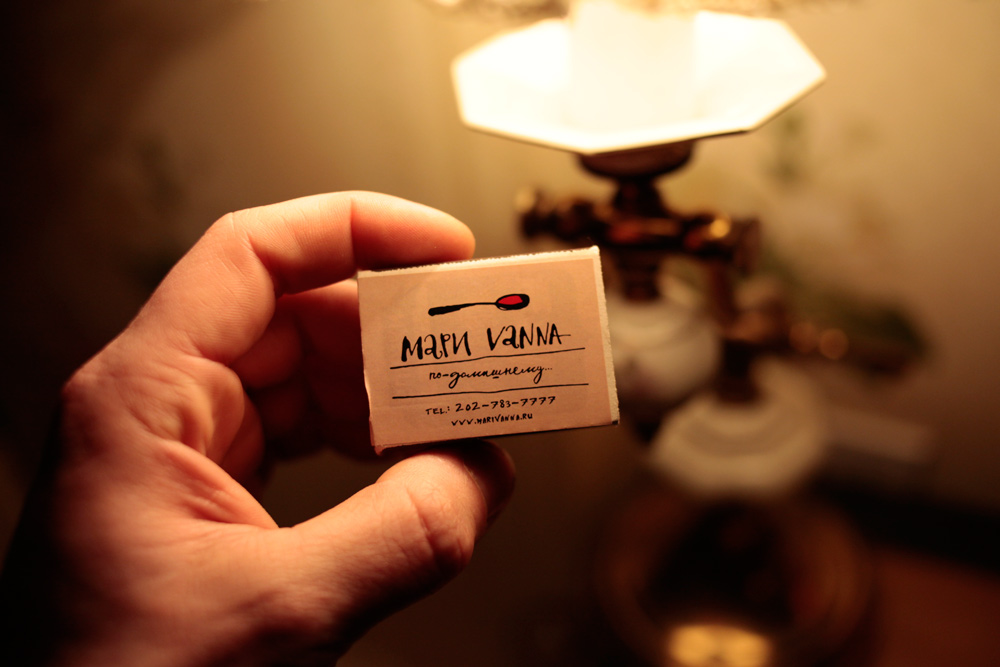 When D.C.'s most famous Russian resident has already given his blessing to your new restaurant, I am not sure how much else need be said. Alexander Ovechkin made Mari Vanna, the District's newest Russian restaurant, one of his first stops on his post-lockout return to the nation's capitol and his endorsement is written for all to see on the Mari Vanna's artfully peeling wallpaper. According to the grumblings of many of the District's Russian residents (read: our photographer Sergey Guryakov), D.C. is sadly lacking in quality Russian dining experiences. Opening to the public this week, Mari Vanna looks to put an end to such complaints by serving up traditional Russian standards such as blinis and beef stroganoff, wonderfully kitsch decor and, of course, plenty of vodka.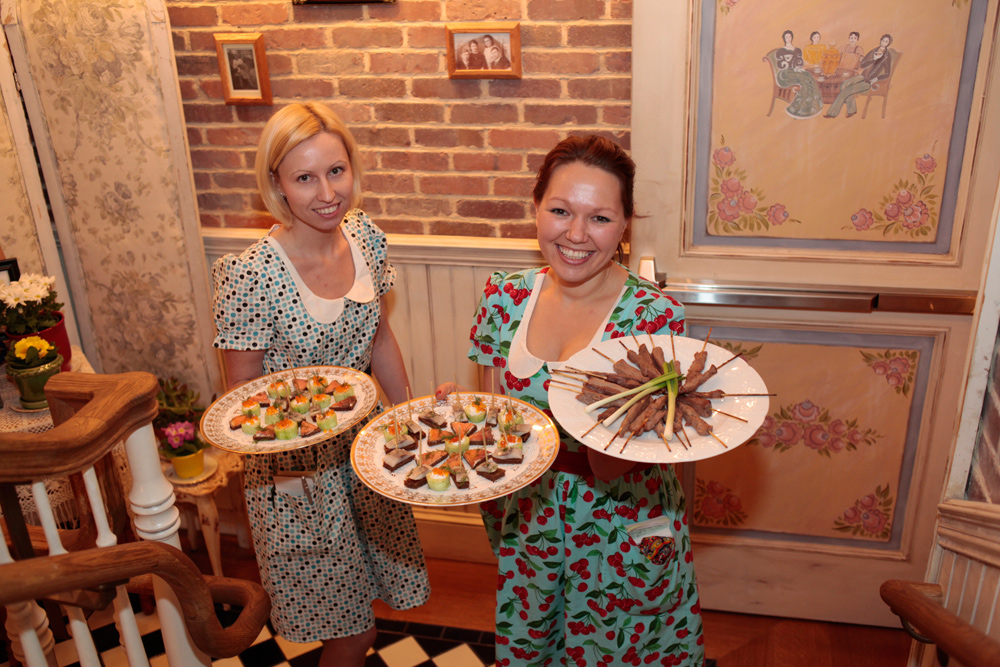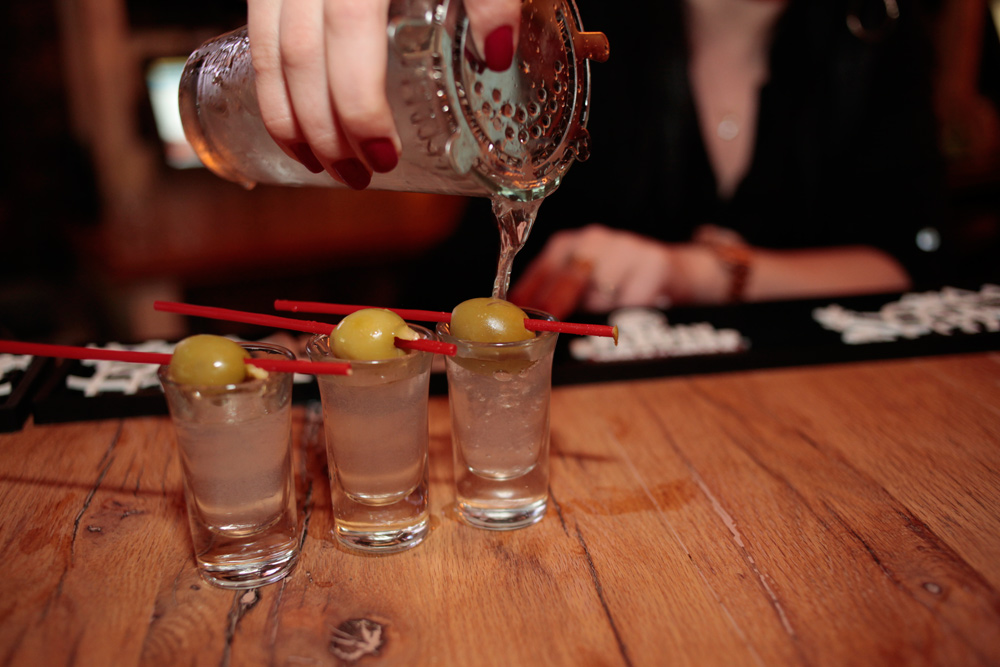 Located just down Connecticut Ave. from Dupont Circle, Mari Vanna is the second American outpost of a St. Petersburg-based group that includes locations in NYC and London.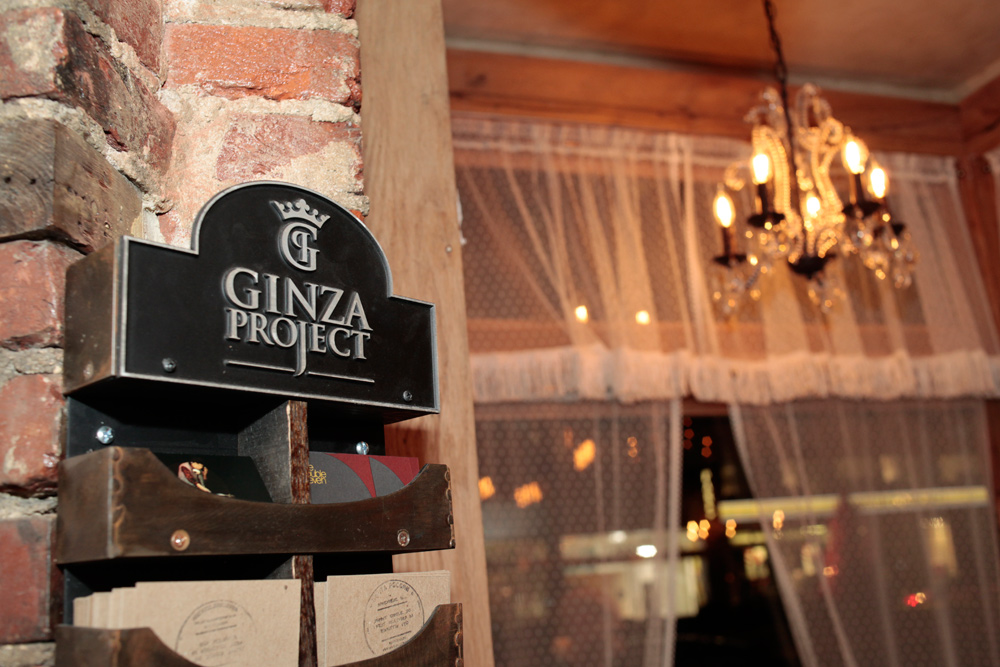 The three-story restaurant is packed to the brim with little touches of Russia. The walls are lined with fading tapestries, hutches packed with crystal decanters, and peeling, torn wallpaper – all of which plays up the effect of having wandered into a slightly dilapidated Russian country house, or "babushka chic" as the Post puts it.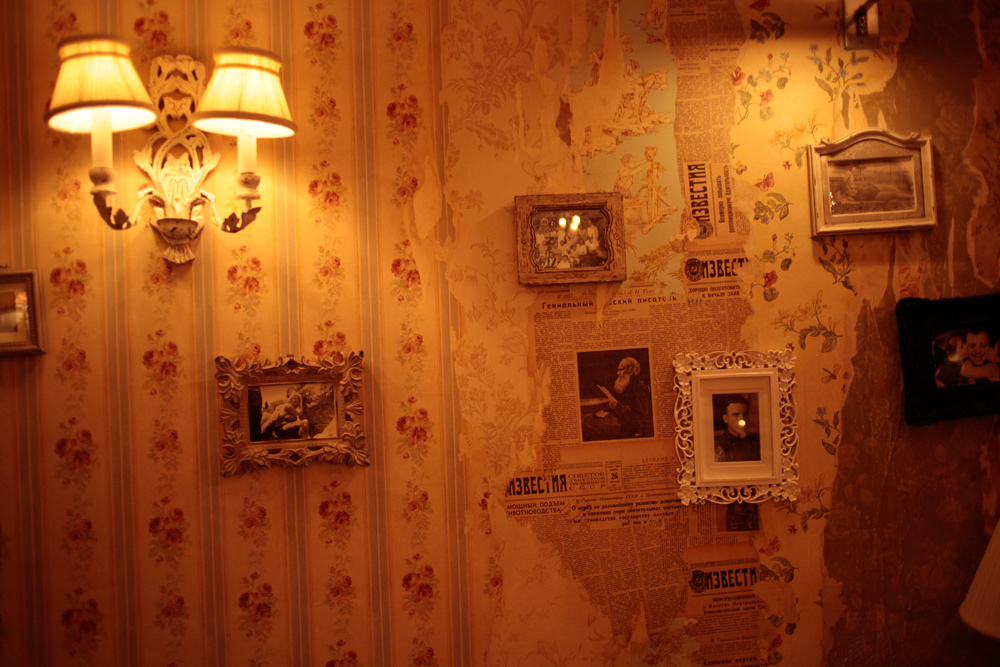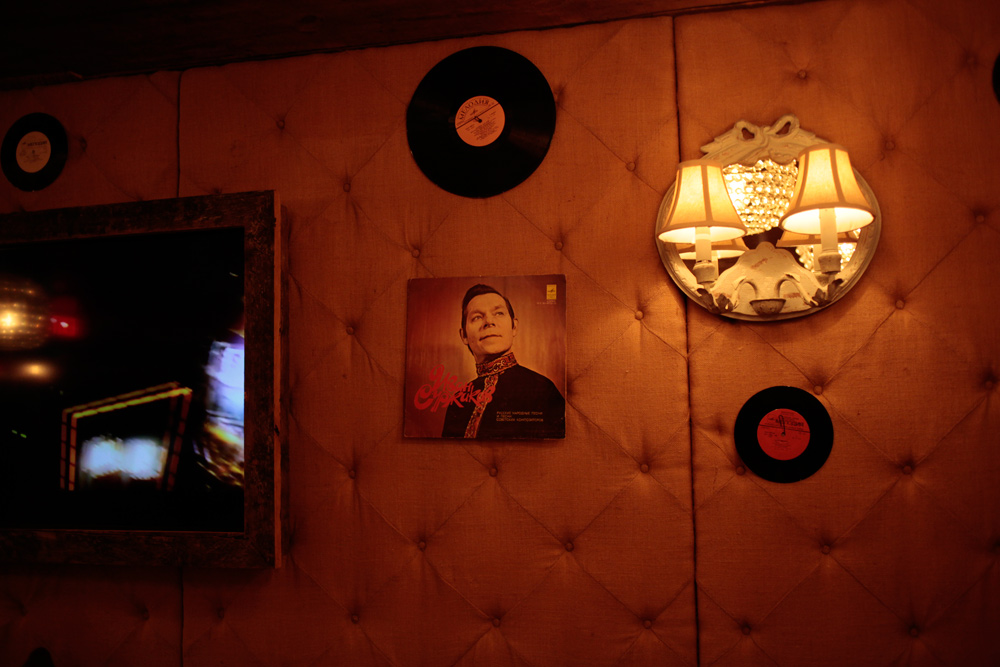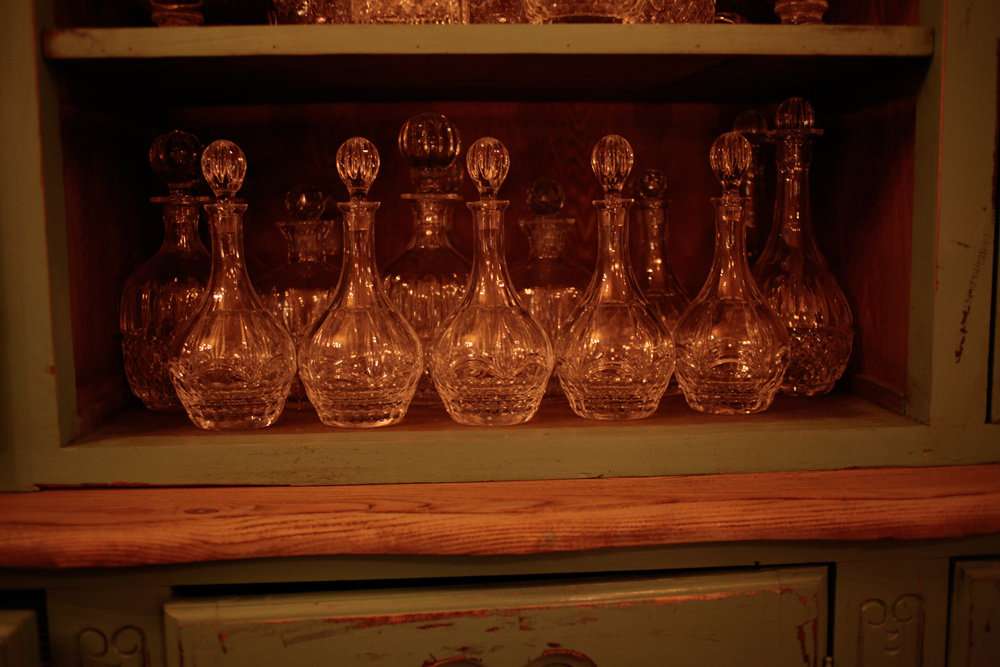 The first floor holds a long bar along south wall while rows of tables hug the exposed brick of the north wall. The exposed brick wall, two stories high with four large mirrors, helps brighten and expand the space that might otherwise feel slightly cramped. The open kitchen occupies the back of the space allowing patrons to watch as the chef whips up another delicious blini. The second floor balcony feels much larger than might be assumed when looking up from below and is covered floor to ceiling with small portraits of your long-lost Russian great-grandparents, their tchotchkes and the crumbling Russian novels they used to read. Continuing upstairs, Mari Vanna's third floor operates as a lounge with a small bar, a DJ booth and plenty of comfy couches to rest on while sipping your vodka.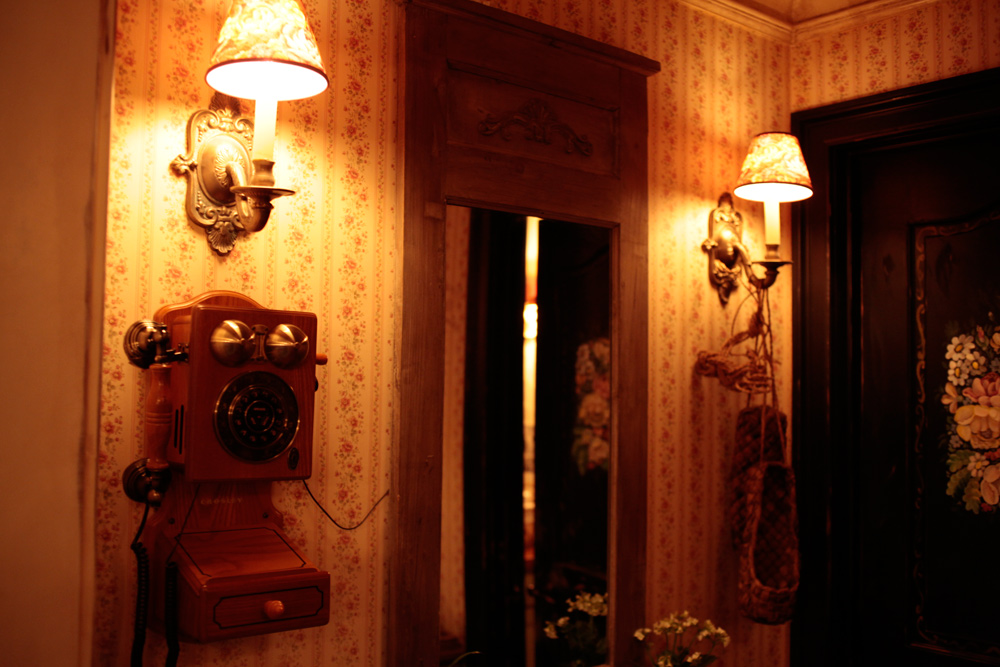 My favorite piece of decoration in the entire place? – This guy's record is mounted on the wall.

But let's talk about the food. The soft opening gave us the chance to sample some of the Russian treats on offer at Mari Vanna. In addition to the bite-sized appetizers passed around (including marinated herring, of course), a blini bar was set up along the front edge of the kitchen. Being from Pacific Northwest, I have a compulsory need to consume seafood whenever possible. So I of course constructed a blini with the fresh crepe wrapped around a salmon filet and topped with sour cream and salmon roe. Feeling the need to balance out the seafood, I made sure to snag a few of the pirozhki (small pastries filled with various meats and veggies). The full menu includes these staples along with traditional Slavic food like borscht and salt-cured meats. Skewers of fruit were a great way to clear the palate but I admit to being bummed that there was no opportunity to sample the cherry pie that appears on the regular desert menu. I do appreciate a cherry pie and a damn fine cup of coffee at the end a meal.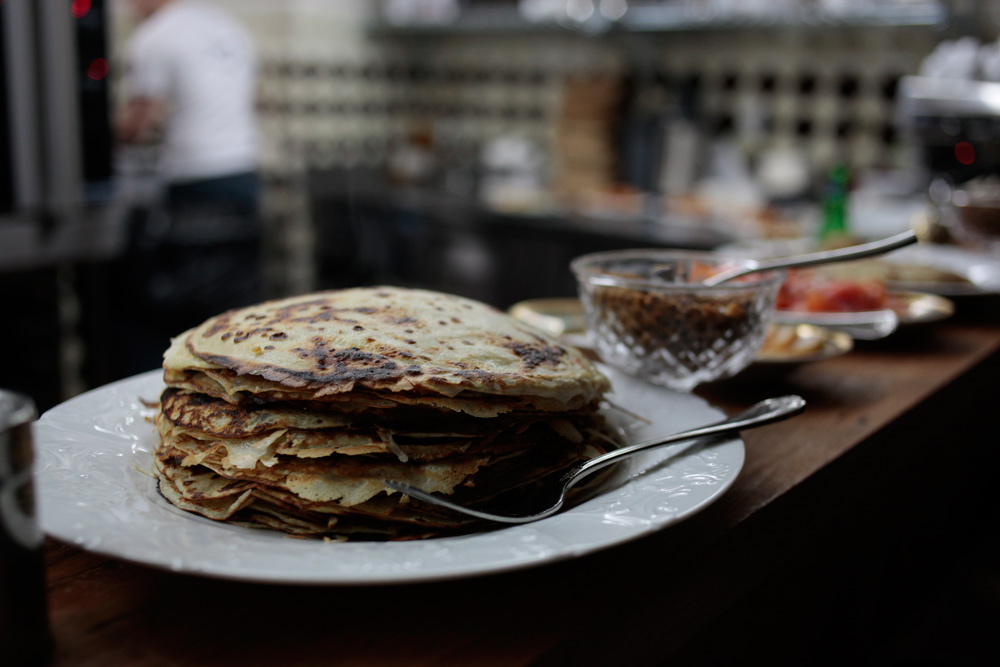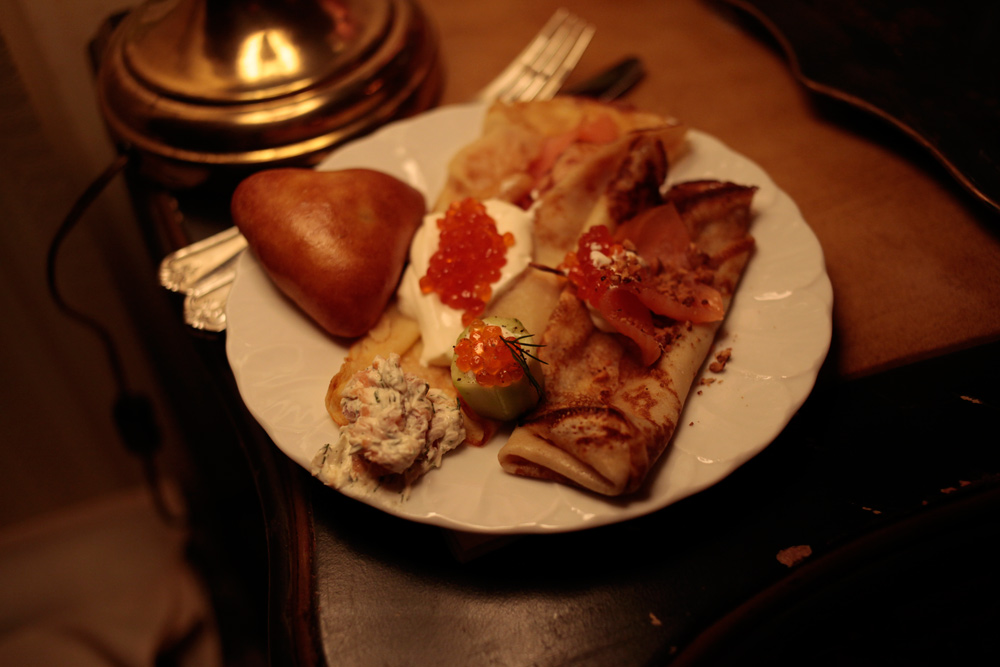 Just as important as the food are Mari Vanna's vodka offerings. The bar is fully stocked with an impressive collection of top-shelf Russian vodkas. However, the kicker is the house-made infused vodkas. Offerings on Wednesday ranged from the sweet (strawberry) to the aggressive (horseradish). Other options included honey oat, pineapple, and Sea Buckthorn (I had to google it too). Make no mistake, these are not vodkas with a 'hint' of flavor, they pack a punch. My personal vote goes to the honey oat but according to the Mari Vanna's Facebook page, there will soon be more than 20 different infused vodkas available at the bar so you will have plenty of options to choose from.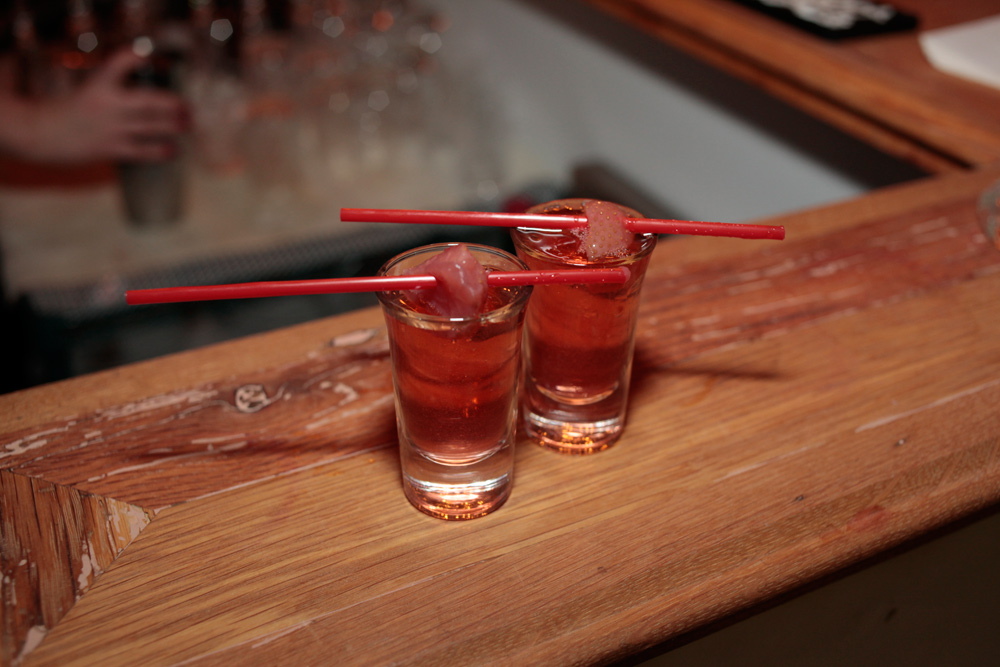 Before you leave Mari Vanna be sure to snag a traditional Russian candy from one of the large jars atop the downstairs bar. Not only are these delicious, but also they have way cooler packaging than any American candies I have seen.